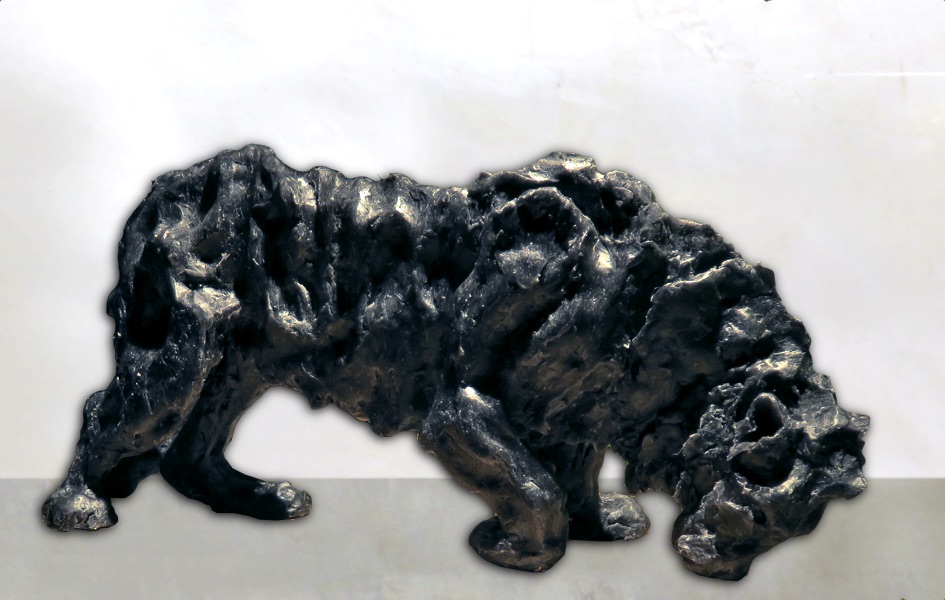 Bronze 2016
30 x 15 cm
Lion bones a growing business in Asia, will push the lions in Africa to extinction. After the cruel hunt, the bones are sold to the Asian markets, to be used in a wine or made into a cake. The ruthless exploitation of the lion does not end with the canned hunt.
Squeezing the last buck out of the lion, the breeder now sells the bones to the Asian market. The lion's bones will be sold to the Asian markets to make lion bone cake for medicinal purposes, regardless of the fact that there is no medicinal value in them. These bones fetch millions of dollars and the industry is growing. The bones are fraudulently marketed in Asia as Tiger bone wine or cake. The concoction includes lion bones, deer antler, turtle shells and monkey bones. After boiling, the concoction is added to rice wine for the Chinese market, and compressed into tiger bone cake, which is favoured in Vietnam. Chinese shamans regard the bones of wild lions and tigers as being more potent than those of captive-bred animals.
The growth of the lion bone trade is going to cause an horrendous upsurge in the poaching of wild lions, who are already under threat from persecution and hunting, thereby pushing them closer to regional extinction in Africa.
http://www.cannedlion.org/lion-bones.html
Le business des os de lion en pleine croissance en Asie va amener les lions d'Afrique à l'extinction. Après la chasse cruelle, les os sont vendus sur les marchés asiatiques, pour être utilisé dans un vin ou sous forme de cake. L'exploitation impitoyable du lion ne se termine pas avec la chasse "en boîte". Pressant le lion jusqu'au dernier dollar, l'éleveur vend maintenant les os sur le marché asiatique. Les os seront vendus sur les marchés asiatiques pour faire du cake d'os de lion à des fins médicinales, indépendamment du fait qu'il n'y a aucune valeur médicinale en eux. Ces os rapportent des millions de dollars et l'industrie est en pleine croissance. Les os de lion sont frauduleusement commercialisés en Asie comme os de tigre, vin ou gâteau. La concoction comprend des os de lion, bois de cerf, les carapaces de tortues et des os de singe. Après la cuisson, la concoction est ajouté au vin de riz pour le marché chinois, et comprimé dans cake d'os de tigre prisé au Vietnam. Les chamans chinois considèrent les os des lions et des tigres sauvages comme étant plus puissant que ceux des animaux élevés en captivité. La croissance du commerce des os de lion, commence à provoquer une recrudescence effroyable dans le braconnage des lions sauvages, qui sont déjà sous la menace de la persécution et de la chasse, les poussant ainsi plus vite vers une extinction régionale en Afrique.